Collection:

Inaugural Collection
Showcasing the grandeur of nature unadorned, our inaugural collection, "Creation: Internal and External," introduces Hildegaard Haute Botanical Facial Oil.
Made mindfully, by hand, with couture-caliber craftsmanship, Hildegaard Haute Botanical Facial Oil is a euphoric composition formulated purely from seventy of the world's most exquisite plants.

This unparallelled facial oil possesses an opulent, cushionlike texture and a dense chromatic pigmentation derived from nutrient-rich botanicals and precious organic, virgin, cold-pressed carrier oils.

Featuring superlative botanical essences brought to life through carefully chosen partnerships with dedicated artisans in Tunisia, Somalia, Serbia, and Turkey, Hildegaard Haute Botanical Facial Oil is presented in four distinctive olfactive signatures — Neroli, Olibanum, Immortelle, and Rose. Baroque notes of citrus, resin, gold, and spice play across an herbaceous palette to pay homage to the audacious sophistication of Nature.

Two hundred and twenty hours of artistry are incorporated into each bottle of Hildegaard Haute Botanical Facial Oil, ensuring that Nature's inherent magnificence is impeccably rendered. Exhibiting majestic layers of Nature's wholeness and wisdom, this sacred elixir transmutes the sun's luminosity into vitality for the skin and soul.

The intent of the collection is creative inspiration
Each element of the collection is crafted to illuminate the state of being that gives rise to creative insight and action — the radiance and insight that is fundamental to creation and art. In these unified states of being, our vitality overflows, unleashing our own creative signature into the world. The energy of creation is, ultimately and paradoxically, given form by the human body, the corporeal filament of vitality connecting earth and sky.

The body is where matter meets spirit, a microcosm of the outer world: in the outer world there is a nature and a being, in the inner world there is one's nature and one's being.
With Hildegaard, I invite you to unleash your inner light. Where matter and spirit commingle — where human and divine coexist — beauty, innovation, and renewal are birthed.
Through the body, we can transmogrify the profound creative desires of our spirit into matter, plucking them out of timeless eternity into the now and here. From our spiritual core we gather the elements and set them loose upon the physical world.

Hildegaard reminds you daily that you yourself are a blazing star containing the boundless illumination of the universe. You are life-giving and endlessly creative. All elements in the collection, from the seeds through to the final creations, are charged with presence, intent, and the most crucial ingredient of all, creative inspiration. Our collection draws together living botanical wisdom, the art of inspiration, and the radiant energy of celestial light gathered by plants to help achieve the truest, fullest expression of yourself.

—Lia Chavez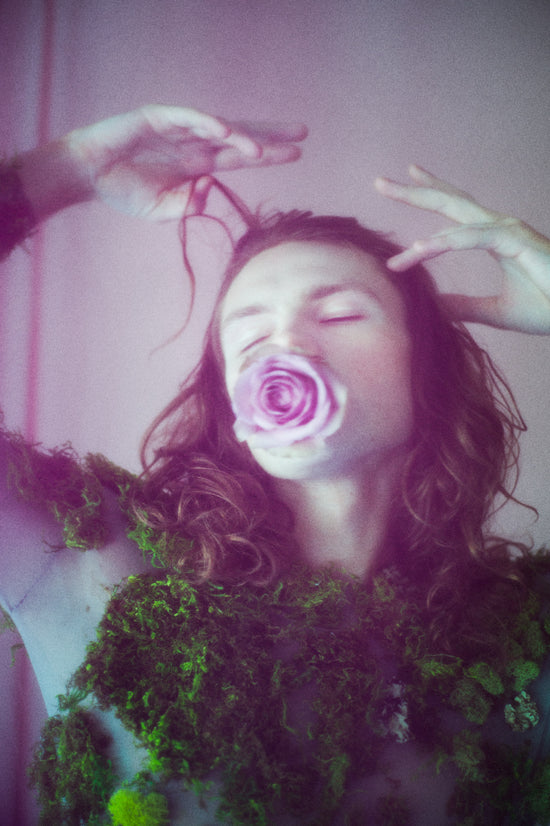 Awaken living light within me. — Hildegard von Bingen